I debated for one second not doing a review this week and then realized people, someone must insult these men! So here it goes!
1. Travis got kicked off and really people who is surprised. His main gimmick was a dang ostrich egg. As Travis left he awkwardly threw his umbrella-ella-ella to the ground and then said, "Man I have a heart this big." Yes Travis, you're heart is big, but not quite as big as your ostrich egg.
2. Insert TERRIBLE advertising for the movie Brave and Emily and all her girlfriends bachelors sitting around commenting on the movie. "I just can't help but notice how similar the movie is to what we're going through here at the Bachelorette." SO DEEP! And yes, exactly like the movie. Emily is presented with a bunch of sissies and decides they're all total LAME HEADS. And they all lived happily ever after the end.
3. Chris. Oh poor Chris. I would compare Chris' arrow shooting stance unto that of a certain Kim Kardashian golfing. After making a total fool of himself at the Scottish games in Croatia (who holds Scottish games in Croatia???) Emily gave him the bravery cup also called the "I'm So Mortified For You That You Deserve This Pitty Trophy."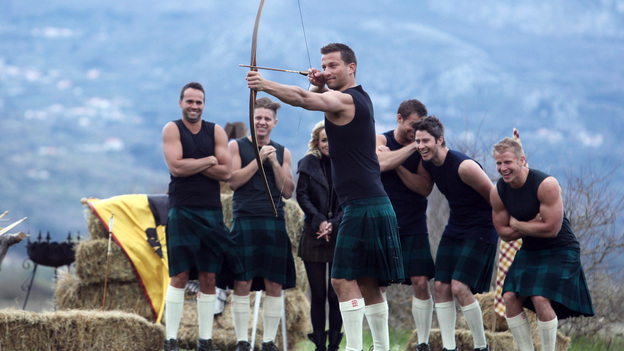 4. Ryan almost made Bachelorette history and almost by the hair of his weirdly shaved chinny chin chin talked Emily out of not giving him a rose. But I think there are more important things to talk about where concerning Ryan don't you. Like the fact that he literally wore a WOMANS TANK TOP AND BLUE SUEDE SHOES IN THE SAME EPISODE! Emily said she wasn't sure why but Ryan just didn't seem like the right choice??? Hello, Emily, girl, he's wearing women's clothing, shaves his beard like Senecca Crane and ACTUALLY owns blue suede shoes. If that doesn't scream douche then I just quit life.
5. Ryans list of 10 Ways To Make Ryan Happy made want to find all of the possums in the world and then set them free in Ryan's beard. And let's not forget that EVERY man needs a trophy wife. Puke puke. Moving on.
6. Will someone stop all of these grown men from constantly crying???!!! The ugly cries were in abundance! Over abundance! But then again this is a perfect example of what my face looks like when I see Arie practically drowning Emily in his saliva baths. Nobody likes a sloppy kisser Arie.
7. Guys this has to be the most boring season of the Bachelorette in history, and Ryan was my only source of entertainment...and now he's gone. Oh no my face is morphing into Doug's ugly cry again!